Benefits
Normaderm Gel Cleanser is a deep cleansing gel face wash for oily skin that purifies skin and unclogs pores without dryness or irritation.
Normaderm gel cleanser gently exfoliates and helps prevent new skin imperfections.
Application
Work gel cleanser into a lather and massage onto damp face, avoiding the eyes.
Rinse well with water. Use twice daily.
Product Safety
Dermatologist Tested

Paraben Free

Allergy Tested

Sensitive Skin Tested
Featured Ingredient: Vichy Mineralizing Water
A miracle of nature from the preserved region of Auvergne, rich in 15 minerals, helps strengthen the skin's moisture barrier function to help protect skin against aggressors.
Featured Ingredient: Salicylic Acid
Has a mild exfoliating effect resulting in a softer and smoother skin.
My Concern
Keeping oily and shiny skin under control and purify skin to avoid acne break outs.
My Solution
Normaderm Gel Cleanser face wash for oily skin combines Salicylic Acid, and micro-exfoliating LHA to gently exfoliate and purify skin. Skin is clean, healthy looking and refreshed.
Product Feel
Translucent gel lathers quickly into a fresh foam that rinses easily. Leaves skin feeling soft, velvety and ultra-clean. Light, intensely refreshing fragrance selected to minimize the risk of allergy and maximize the sensorial experience.
Results
In 4 weeks*:
-9 out of 10 women saw visibly healthier skin
-7 out of 10 women saw refined skin texture
-4 out of 10 women saw a reduction in skin imperfections
*consumer use test on 76 women
SUGGESTED USE
Work gel cleanser for oily skin into a lather and massage onto damp face, avoiding the eyes. Rinse well with water. Use twice daily.
HEALTHY BEAUTY ROUTINE
The Normaderm Gel Cleanser should be followed by Normaderm Beautfying Anti-Acne Care.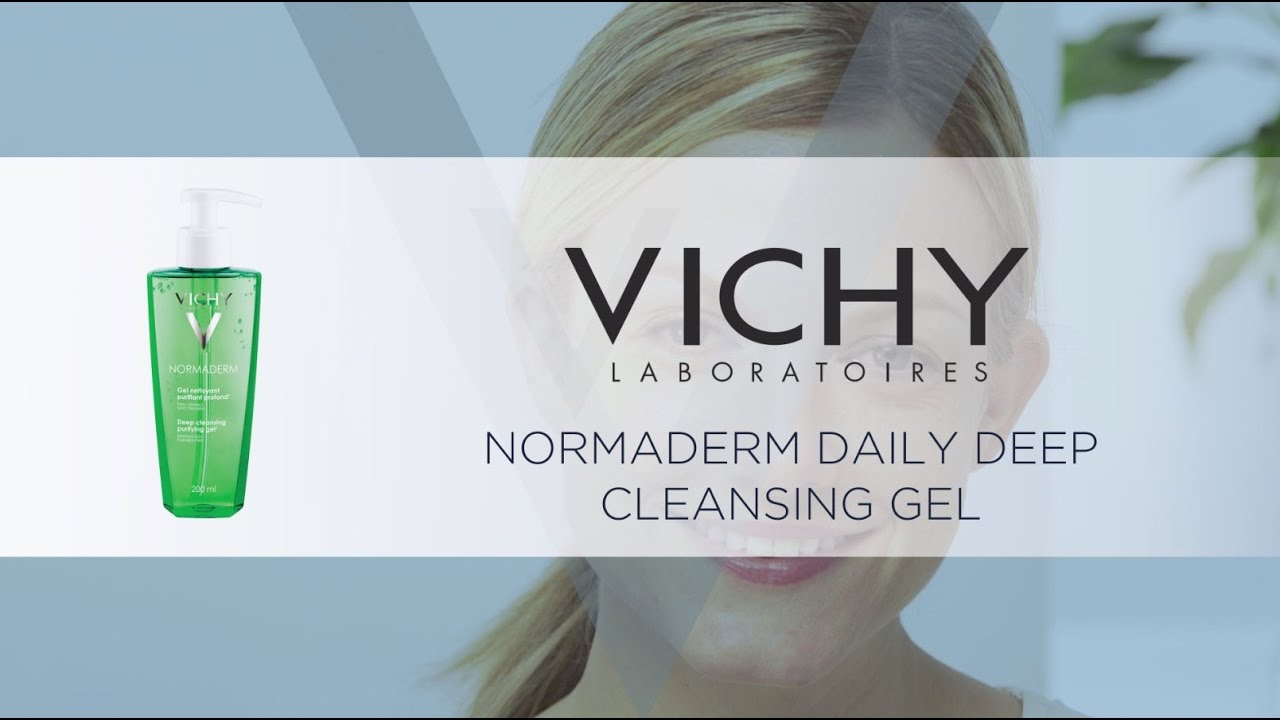 Expert Tips
Why Normaderm Gel Cleanser?
"Leaves skin clean and refreshed. Can be used on the back!" – Liz Kennedy, Esthetician
Le Vichy Mag
Anti-Aging by Concern

Adult Acne vs. Younger Acne:What You Need To Know About Breakouts When You're Over 30

Adult acne is extremely stubborn and requires different care than the acne in your teens. You may find it presents itself in the form of blemishes, breakouts and lingering scars.

Read more

Anti-Aging by Concern

How to Get Beautiful Blemish Free Skin

Do you have the right routine for blemish free skin? The first step to fighting adult acne is a great personalized skin care routine

Read more

Anti-Aging by Concern

Dealing With Adult Acne: How to Cleanse Oily Skin

Sometimes acne stays with you into your adult years. If you have adult acne or oily skin there are many steps you can take to improve your skin quality.

Read more
Vichy Mineralizing Thermal Water

Discover skin care from the #1 anti-aging brand in European pharmacies. Since its creation in 1931 by Dr. Haller, Vichy offers women a range of skin care products with skin health in mind. Vichy Mineralizing Thermal Water from the French Volcanoes is rich in 15 essential minerals, is at the core of the brand and is included in all products to strengthen skin against external aggressors, such as pollution, stress, and fatigue.

Normaderm

As your skin gets older, it loses essential oils that help with hydration. Normaderm is specifically formulated for adult acne by combining acne fighting ingredients with hydrating benefits so it will purify oily skin without drying it out!
French Beauty Secrets
Normaderm Gel Cleanser

Normaderm Beautifying Care
Vichy

Product Reviews for

Normaderm Gel Cleanser
Receive emails about new products, latest trends, and special offers.