Benefits
A new generation of anti-aging day care specifically created to counteract Daily Aging, for more youthful-looking skin all day.
LiftActiv Supreme Anti-Aging Cream instantly helps smooth and illuminate complexion. After 1 month, helps the appearance of visibly firmer-looking skin.
Application
Apply LiftActiv Supreme anti-aging cream in the morning on cleansed face.
Smooth on gently until thoroughly absorbed. A light massage will help product absorption and wake up the skin revealing its natural glow.
Product Safety
Dermatologist Tested

Paraben Free

Allergy Tested

Sensitive Skin Tested
Featured Ingredient: Vichy Mineralizing Water
A miracle of nature from the preserved region of Auvergne, rich in 15 minerals, helps strengthen the skin's moisture barrier function to help protect skin against aggressors.
Featured Ingredient: Rhamnose
A naturally-derived plant sugar, proven to boost overall skin structure and correct the effects of skin aging.
My Concern
A new frontier in skincare: daily aging. Vichy has researched that signs of aging become more pronounced over the course of the day. It's not just the years that give away a woman's age, it's each passing day. It's as if your skin is telling you that you can't resist long days anymore, like when you were younger. In an exclusive clinical study, Vichy identified key markers that give skin its "tired look" by the end of the day:
• Dulled complexion
• Deepening wrinkles
• Sagging features
My Solution
Liftactiv Supreme Anti-Aging Cream combines Rhamnose and Day-Proof Complex to fight continuously against the development of aging signs, especially those that manifest in the evening. Liftactiv Supreme targets stubborn signs of aging like wrinkles and loss of firmness. Enriched with a gentle exfoliating agent for softer and smoother skin. It is demonstrated that with continued use it provides a lasting lifting effect.
Instant 3D Optical Correctors simultaneously blur, and illuminate. Liftactiv Supreme anti-wrinkle cream ensures younger looking skin all day long. It reinforces the skin's capacity to resist daily impacts hour after hour.
Product Feel
Light yet comfortable anti-aging cream that melts immediately into skin. Provides a fresh, comfortable feeling all day. Non-sticky. Non-greasy anti-aging cream. Ideal for layering under sunscreen or makeup. Fragrance selected to minimize the risk of allergy and maximize the sensorial experience.
Results
IN 4 WEEKS:
79% agree features look smoother*
85% agree skin feels more comfortable*
38% increase in skin firmness**
*Study on 52 women aged 45 to 65, twice daily application over 4 weeks
**Evaluation on 40 women aged 53 to 67
Apply face cream in the morning on cleansed face. Smooth on gently until thoroughly absorbed. A light massage will help product absorption and wake up the skin revealing its natural glow.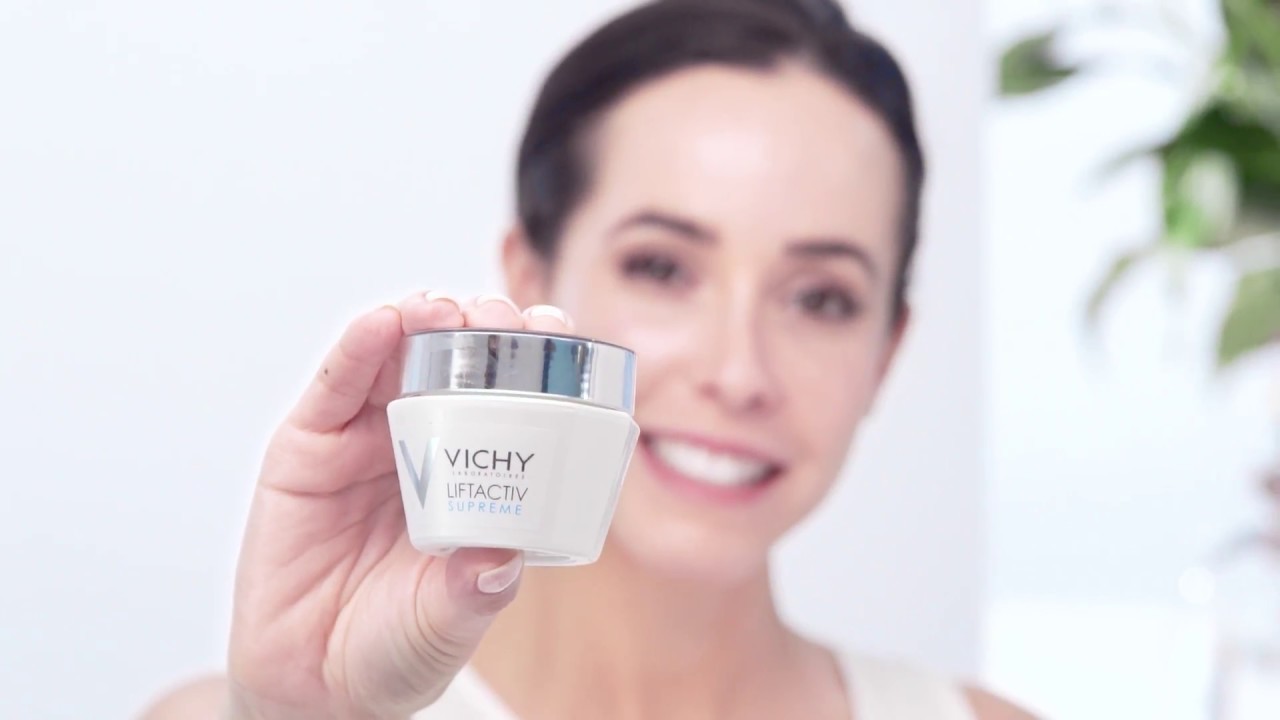 Expert Tips
Why LiftActiv Supreme?
"A texture that melts into the skin. I would recommend to every woman 30+." – Liz Kennedy, Esthetician
Le Vichy Mag
Anti-Aging Ingredients

Anti-Aging for Sensitive Skin: A Natural Sugar that Combats the Signs of Aging

Rhamnose is a natural anti-aging ingredient that is safe for even sensitive skin. Coming from the birch tree, Rhamnose helps target signs of aging while being gentle enough for use on sensitive skin.

Read more

Anti-Aging by Concern

Anti-Aging Treatments: All you Need to Know

There are many anti-aging treatments on the market and it is sometimes hard to figure out which to use. Discover what anti-aging treatments you should be using and which you can live without.

Read more

Anti-Aging by Age

How to Beat Behavior-Related Aging

There are many things that cause skin to age and behavioral aging is one of them. Behavioral aging is what happens to skin when you pull too many all nighters or have a few too many salty snacks which leads to aging skin.

Read more
Vichy Mineralizing Thermal Water

Discover skin care from the #1 anti-aging brand in European pharmacies. Since its creation in 1931 by Dr. Haller, Vichy offers women a range of skin care products with skin health in mind. Vichy Mineralizing Thermal Water from the French Volcanoes is rich in 15 essential minerals, is at the core of the brand and is included in all products to strengthen skin against external aggressors, such as pollution, stress, and fatigue.

LiftActiv

The LiftActiv anti-aging line helps trigger skin's own natural firming and repairing abilities. It provides complete anti-aging care that leaves skin with a more refreshed look, lifted contours, minimized wrinkles and a smoother, more radiant surface.
French Beauty Secrets
LiftActiv Supreme

LiftActiv Supreme Skincare
Vichy

Product Reviews for

Liftactiv Supreme
Receive emails about new products, latest trends, and special offers.
*Offer only available for first time subscribers.