Benefits
A new generation of anti-aging day care specifically created to counteract Daily Aging, for more youthful-looking skin all day.
LiftActiv Supreme Anti-Aging Cream instantly helps smooth and illuminate complexion. After 1 month, helps the appearance of visibly firmer-looking skin.
Application
Apply LiftActiv Supreme anti-aging cream in the morning on cleansed face.
Smooth on gently until thoroughly absorbed. A light massage will help product absorption and wake up the skin revealing its natural glow.
Product Safety
Dermatologist Tested

Paraben Free

Allergy Tested

Sensitive Skin Tested
Featured Ingredient: Vichy Mineralizing Water
A miracle of nature from the preserved region of Auvergne, rich in 15 minerals, helps strengthen the skin's moisture barrier function to help protect skin against aggressors.
Featured Ingredient: Rhamnose
A naturally-derived plant sugar, proven to boost overall skin structure and correct the effects of skin aging.
My Concern
A new frontier in skincare: daily aging. Vichy has researched that signs of aging become more pronounced over the course of the day. It's not just the years that give away a woman's age, it's each passing day. It's as if your skin is telling you that you can't resist long days anymore, like when you were younger. In an exclusive clinical study, Vichy identified key markers that give skin its "tired look" by the end of the day:
• Dulled complexion
• Deepening wrinkles
• Sagging features
My Solution
Liftactiv Supreme Anti-Aging Cream combines Rhamnose and Day-Proof Complex to fight continuously against the development of aging signs, especially those that manifest in the evening. Liftactiv Supreme targets stubborn signs of aging like wrinkles and loss of firmness. Enriched with a gentle exfoliating agent for softer and smoother skin. It is demonstrated that with continued use it provides a lasting lifting effect.
Instant 3D Optical Correctors simultaneously blur, and illuminate. Liftactiv Supreme anti-wrinkle cream ensures younger looking skin all day long. It reinforces the skin's capacity to resist daily impacts hour after hour.
Product Feel
Light yet comfortable anti-aging cream that melts immediately into skin. Provides a fresh, comfortable feeling all day. Non-sticky. Non-greasy anti-aging cream. Ideal for layering under sunscreen or makeup. Fragrance selected to minimize the risk of allergy and maximize the sensorial experience.
Results
IN 4 WEEKS:
79% agree features look smoother*
85% agree skin feels more comfortable*
38% increase in skin firmness**
*Study on 52 women aged 45 to 65, twice daily application over 4 weeks
**Evaluation on 40 women aged 53 to 67
Apply face cream in the morning on cleansed face. Smooth on gently until thoroughly absorbed. A light massage will help product absorption and wake up the skin revealing its natural glow.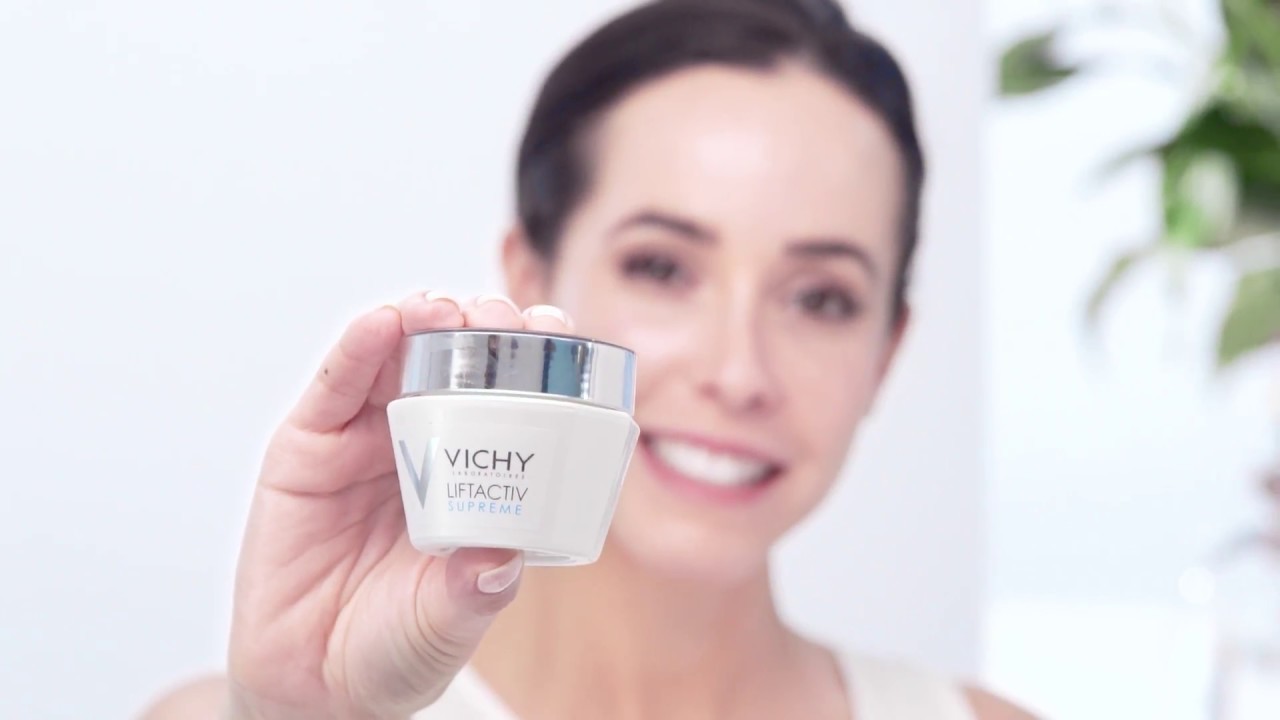 Expert Tips
Why LiftActiv Supreme?
"A texture that melts into the skin. I would recommend to every woman 30+." – Liz Kennedy, Esthetician
Le Vichy Mag
Anti-Aging Ingredients

Anti-Aging for Sensitive Skin: A Natural Sugar that Combats the Signs of Aging

Rhamnose is a natural anti-aging ingredient that is safe for even sensitive skin. Coming from the birch tree, Rhamnose helps target signs of aging while being gentle enough for use on sensitive skin.

Read more

Anti-Aging

Anti-Aging Treatments: All you Need to Know

There are many anti-aging treatments on the market and it is sometimes hard to figure out which to use. Discover what anti-aging treatments you should be using and which you can live without.

Read more

Anti-Aging

How to Beat Behavior-Related Aging

There are many things that cause skin to age and behavioral aging is one of them. Behavioral aging is what happens to skin when you pull too many all nighters or have a few too many salty snacks which leads to aging skin.

Read more
French Beauty Secrets
LiftActiv Supreme

LiftActiv Supreme Skincare
Vichy

Product Reviews for

Liftactiv Supreme

Rated

5

out of

5

by

Anonymous

from

Good go-to!

I received this product free to review, my opinion is completely my own.nnAfter using this creme for a week+ I am definitely impressed. First, the scent is soft and not over powering. It's a rich, smooth creamy texture. A little goes a long way. I loved being able to use this without feeling like having to slather it onto my face. Its very lightweight. Leaves no oily residue or greasy feel.nnThe firmness was slightly instant and I felt my skin shows visible signs of improvement where it was applied. This is definitely for all skin types, I have all combination skin, and it applied flawlessly to my oily areas just as well as to my dry areas.

Date published: 2016-05-26

Rated

5

out of

5

by

Anonymous

from

Best face creme ever

The day I used my last bit of this face creme I cried. It has done so much for my complexion to the point where I feel ok going sans makeup! Brightened my skin, started to fade my acne scars, and was so delicate that I didn't break out more. My skin was literally glowing!! My face is missing it so much right now I can not wait to order a full size bottle to use every day. This has been the best face creme I have ever used. I have oily, hormonal acne complexion. It's light yet powerful and very hydrating. It's the only face creme I use now. nn I got this to try for free from influenster but the reviews and opinions are all mine.

Date published: 2016-06-22

Rated

4

out of

5

by

Anonymous

from

Love it & hard to please

I struggle to find moisturizers that do not leave my face oily (even slightly) or worse--cause breakouts. I have VERY sensitive acne-prone skin, and the problem is so bad I usually just do without. I have loved this cream from the first try--it never leaves my skin feeling anything but hydrated and fresh, and it works perfectly in place of a base under my foundation. My breakouts have gotten under control since I switched to this product. It is too early to remark on the anti-aging properties, although I do feel like any fine lines around my eye area diminish when I use it... DEFINITELY plan to continue using this and explore the brand's other products!

Date published: 2016-06-17

Rated

3

out of

5

by

Anonymous

from

Ok but didn't love it

I used this product for several days and honestly did not care much for it. I didn't hate it, but it didn't do anything special for my skin. To me, it's a very basic moisturizer that didn't make myour skin feel like I was using anything special or different than a basic drugstore face cream. It didn't clog my pores or cause any type of skin changes in texture, firmness, wrinkle reduction or correction of any of my skin concerns. Another thing that I didn't care for was the jar packaging. I prefer skin products to be in anew opaque pump or squeeze tube for sanitary and performance reasons. *Note: I received this product from Influenster in exchange for my honest review.*

Date published: 2016-05-16

Rated

5

out of

5

by

Anonymous

from

Two Thumbs up!

I used this product after I washed my face in the morning, and it was absolutely amazing! I love that I don't have to rub it in all hard, it just goes on smooth as I rub it on lightly. I also like that it's hypoallergenic and made for sensitive skin. It doesn't irritate my skin every time I use it. It feels really good when it goes on my skin. My skin feels softer and looks younger and much brighter. Even though I've only used it a few times, you can still tell it's made a huge difference already! I will definitely be purchasing this product when my sample runs out! I received this product for sampling purposes. Opinions are 100% my own.

Date published: 2016-05-20

Rated

4

out of

5

by

Anonymous

from

Perfect consistency

I'm usually not a big fan of anti-age creams because they tend to be very thick, smell funny or have to be applied often. This product is small and compact making it easy to tote around for applications when you feel you face getting dry. It does leave my face looking a little greasy/dewy which I minded. However, there isn't a disgusting smell to the cream which is a bonus. The best part is that the cream is thick enough to be applied neatly but thin enough to feel like it is penetrating the skin. I haven't noticed much of a difference in my lines but it did help my sunburn heal quicker, I thought.nnI received this product for free from Influenster but all opinions are my own.

Date published: 2016-05-31

Rated

4

out of

5

by

Anonymous

from

Vichy Liftactiv Supreme and Serum 10 Supreme.

I've been using Vichy products for a while now, and they are my favorite. I use their sunscreen and the thermal water daily, but is the first time that tried the anti-aging.nnThe lotion is creamy and a little heavy, but it isn't oily. I've been using for only a week so it's to soon to say something about any anti-aging effect, but if this product follow the quality of the other ones that i've been using for years now, I'm sure that I won't be disappointed. I also received a small sample of Vichy Liftactiv Serum, it has a nice serum and is quickly absorbed. nnI received the product for free, with the intention to review it and express my honest opinion.

Date published: 2016-05-18

Rated

5

out of

5

by

Anonymous

from

Great, even for sensitive skin!

I received a free sample of this product from Influenster in exchange for a fair and honest review. I found this cream to be a fantastic product. I have fair, somewhat sensitive skin. I chose to use this product in the evening (since I already have a great day cream with sunscreen). The scent is very light, and the texture when applied is also very light and it didn't make my skin sticky or tacky feeling. The next morning, I awoke to gorgeously soft and moisturized skin! I was actually surprised how much I enjoyed this product. Worth every penny and I'll be buying it once my free sample is gone!

Date published: 2016-05-26
bvseo_sdk, dw_cartridge, 17.1.0, p_sdk_3.2.0
CLOUD, getReviews, 17ms
reviews, product
Receive emails about new products, latest trends, and special offers.
*Offer only available for first time subscribers.