Mineralizing Thermal Water
Mineralizing Thermal Water
Soothing & Fortifying Mineral-Rich Water
Mineralizing Thermal Water
Benefits
Extremely soothing and infused with antioxidants, Vichy Mineralizing Thermal Water is a natural solution for boosting skin quality and health
A unique combination of 15 rare minerals that give the Vichy Mineralizing Thermal Water its remarkable ability to fortify & protect the skin from environmental aggressors
Application
Spray on face before makeup application or as a booster throughout the day
Can be used to wet makeup sponges
Product Safety
Dermatologist Tested

Paraben Free

Fragrance Free

Allergy Tested

Sensitive Skin Tested

Non-Comedogenic
Featured Ingredient: 15 Essential Minerals
A unique composition with 15 different minerals essential for skin health: Calcium (Ca), Iron (Fe), Manganese (Mn), Fluorine(F), Potassium (K), Silicon(Si), Magnesium (Mg), Sodium (Na), Sulphur (S), Boron (B), Lithium (Li), Strontium (Sr), Hydrogen carbonate ions (HCO3-), Ammonium (NH4+), Orthophosphate ions (PO43).
My Concern
Some minerals are essential for the skin. The skin loses them through perspiration. Some skin dysfunctions, principally alteration of barrier function, are correlated with altered mineral distribution and their loss. The skin can be mineralized by local application of minerals.
My Solution
Mineralizing Thermal Water with the highest concentration in trace elements and the highest diversity in minerals. Vichy minerals help to make the skin stronger against aggressions that can have an impact on skin sensitivity.
15 clinical studies have shown the skin benefits of Vichy Mineralizing Thermal Water:
• Soothes the skin and reinforces its natural barrier function
• Helps fight the signs of skin aging
• Skin is protected & fortified, more resistant to environmental aggressors
• Overall skin quality and health is improved
Product Feel
Light thermal mist provides an immediate refreshing effect on skin. Boosts skin comfort and helps fortify skin against irritation and sensitivity.
Results
Vichy Mineralizing Thermal water compared to main competitor:
• Vichy water better reduces pulling and itching vs main competitor (Clinical study on thermal water atomizers on sensitive skin)
• Vichy water better rebalances pH after acidic or basic aggression vs competitor (In tubo study on Vichy and competitor waters buffer capacities)
SUGGESTED USE
After spraying, leave it to work for a few moments then gently dry.

Great to use in multiple situations:
1. After cleansing the face
2. To set makeup
3. To wet makeup sponges
4. To alleviate sunburn
5. After shaving
6. After cosmetic treatments
7. To soothe dry skin
8. Refresh your skin when travelling or throughout the day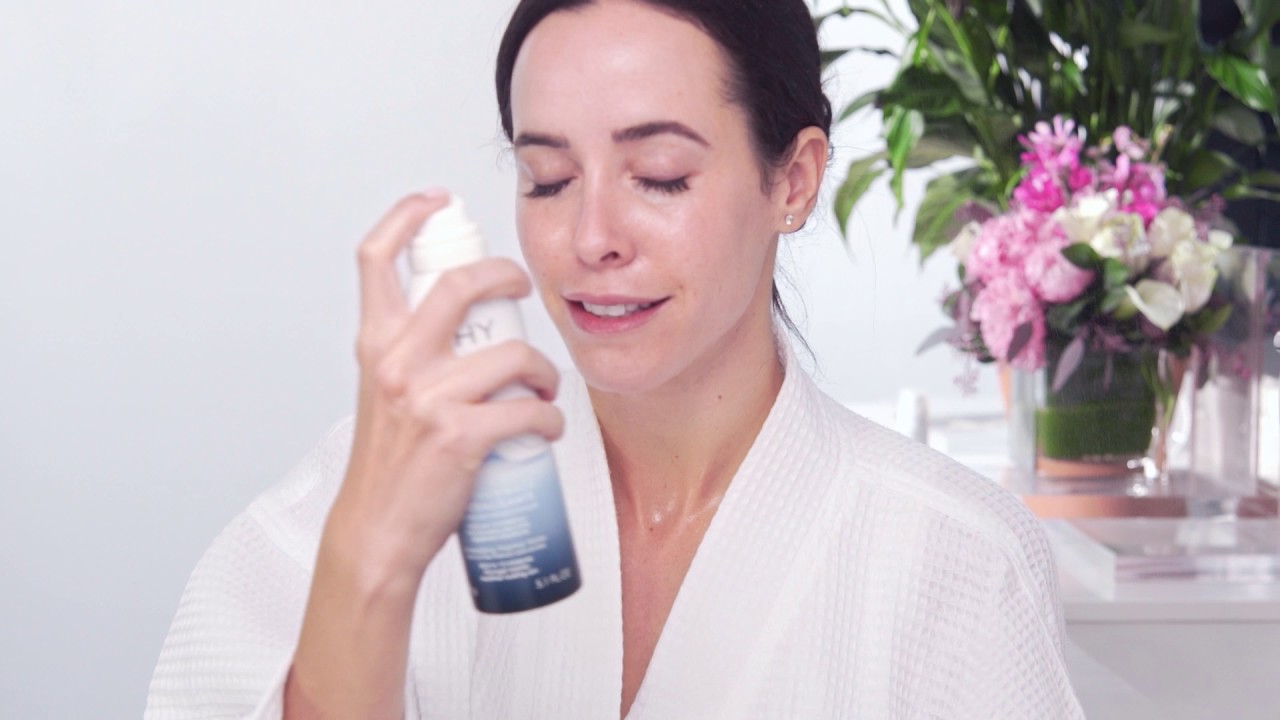 Expert Tips
Why Mineralizing Thermal Water?
"Very calming, I use it after treatments on my patients." – Dr. Erin Gilbert
Le Vichy Mag
French Beauty

What is Vichy's Mineralizing Thermal Water?

Vichy Mineralizing Thermal Water from the French Volcanoes is at the heart of all of the product formulations. Enriched with 15 essential minerals it will leave your skin feeling healthy, hydrated and refreshed.

Read more

Anti-Aging Ingredients

Mineral vs. Antioxidant Skin Care: What Minerals Are Good For Your Skin?

Mineral and antioxidant skin care are great additions to any skin care routine to keep skin healthy and hydrated.

Read more

Hydration

Maintain Your Moisture

As you age it is important to keep your skin healthy and hydrated in order to maintain your moisture levels in the present and prevent dry, cracked skin in the long run. Learn how to adapt your moisture routine to keep skin hydrated and happy.

Read more
French Beauty Secrets
Mineralizing Thermal Water

Mineralizing Thermal Water - The Proof
DISCOVER #VICHYUSA
When you upload photos to this page, you are sharing them with L'Oreal and our use of those photos is subject to our Privacy Policy and User Content Permission Terms. This feature is for U.S. consumers.
Vichy

Product Reviews for

Mineralizing Thermal Water

Rated

5

out of

5

by

jdobra

from

LOVE IT!!

I have been using this product for a while and I honestly don't know how I have lived without it before! I use anytime I need a spritz of hydration, after tweezing facial hair and before I apply my daily/evening routine with the other Vichy products I use..it makes the creams go far and you don't have to use as much!! I love it!... I will continue using it as part my beauty routine!!

Date published: 2019-03-02

Rated

5

out of

5

by

Paola

from

Wonderful

I love it , is very addictive and very refreshing . my skin feels super hydrated when I apply the spray and I do it several times a day I feel like I got my best friend because he is always with me

Date published: 2019-03-01

Rated

5

out of

5

by

Lucas

from

AMAZING!!!

I found this spray when I went to Hong Kong last year and I have been using it ever since. Hong Kong was very hot and humid and a lot of the women there use this spray. No surprise since it's truly amazing. The only difference is, over in China, the cans are much bigger, so on my next trip over, I will grab a couple. I have it in my handbag, on my desk at work, and on my bedroom side table. They tell you to dry it after letting it sit for a few minutes, but I never dry it off. It feels so good, and it doesn't leave any type of strange after residue! Try it, it's fantastic!

Date published: 2017-05-15

Rated

5

out of

5

by

Anonymous

from

The VERY BEST Spa Water

I have rosacea and have been using Vichy products for several years. They are the BEST, bar none. No Vichy product has ever irritated my skin. The Thermal Spa Water is my "must have" product. It soothes, hydrates, sets make-up, and "thins" heavier moisturizers during hot, humid weather. I am never without the Thermal Spa Water and buy several bottles at a time, home and travel sizes.

Date published: 2015-10-29

Rated

5

out of

5

by

Anonymous

from

TOTALLY AWESOME SPRAY!!

I began using a lot of the Vichy products and tried a sample of this. Did not know what it would or could do, but after the 3 in 1 cleanser, I spayed this on, let it work a minute, and then used the eyecream and liftactiv supeme , and wow! I could feel the gentle tingling of the vitamins and minerals. Also, it gives the face and neck a refresher course for the day. When it gets hot, carry this in your handbag and spritz and it truly makes your morning makeup look newly applied and dewy again! This is totally awesome, and I just ordered 3 cans to have for the summer. Get it! Try It! You will love, love ,love it!

Date published: 2015-05-28
bvseo_sdk, dw_cartridge, 17.1.0, p_sdk_3.2.0
CLOUD, getReviews, 38ms
reviews, product
Receive emails about new products, latest trends, and special offers.